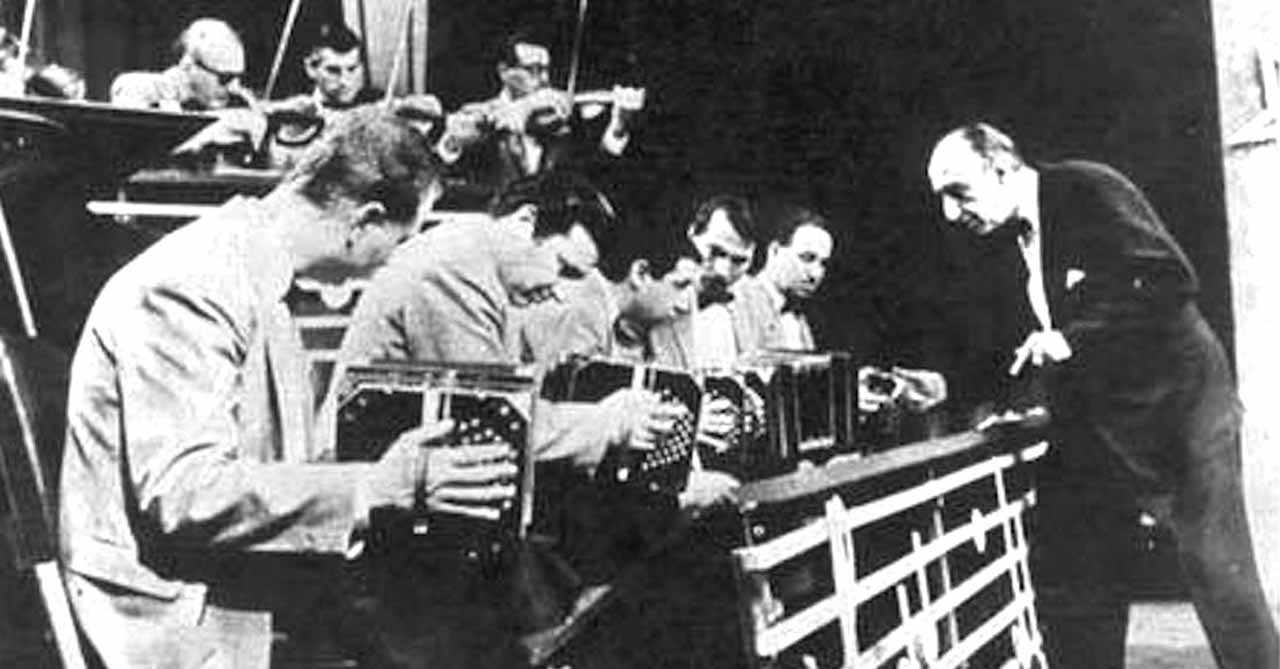 The "Golden Age of Tango" is generally accepted as being from 1935 to 1955. Most of the music played at milongas are from the Golden Age. It is important to note that a few historians consider 1925 to be beginning of "The Golden Age of Tango" and that it can be broken down into two periods, La Guardia Nueva: I (1925-1940) and La Guardia Nueva II (1940-1955)." I am choosing to go with the majority and to begin the Golden Age with Juan D'Arienzo.
This period saw:
Buenos Aires rejuvenated by its 400th Anniversary
D'Arienzo bring the dance beat back
The orchestras grow
Huge crowds go to salons and clubs to listen and dance to tango
Orchestras incorporating singers into the band
The height of the craze.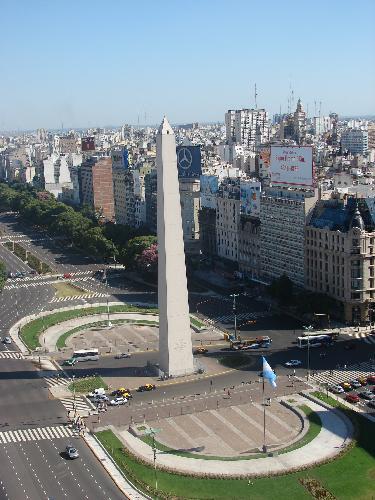 In the late 1920s and early 1930s, the whole world had been in an economic slump and this included Argentina. But in 1935 Buenos Aires was preparing for the 400th anniversary if its founding as a city. This included building of a 72-meter high Obelisk and the opening of the avenida 9 de Julio. This brought a new energy and optimism to the city.
Tango had suffered in the last decade from the popularity of movies and other popular music genres such as Jazz taking over the radio. Tango music had also been becoming more complex and difficult to dance to.
In mid-1930s, Juan d'Arienzo exploded onto the scene returning to the driving beat of the Guardia Vieja. D'Arienzo was seen as a step backwards by many tango musicians and fans of the music, but the dancer's loved him and responded by returning to the dance floor and packing the dance salons. D'Arienzo issued in a return to emphasizing rhythm over melody and harmony and was given the nickname, "El Rey del Compas" (King of the Beat). Listen to his song, "Nueve de Julio" below.
The orchestras grew again during this period. De Caro grew to thirteen and many orchestras were adding symphonic instruments such as wind instruments, percussion and even harps and vibraphones.
A new partnership was forged, during this time, between the orchestras and the singers. Orchestra leaders figured out a way to incorporate in the singers without putting them in front and sacrificing the rhythm for dancers. Ángel d'Agostino and the singer Ángel Vargas is a good example of this relationship. Listen to their song, "Tres Esquinas" below.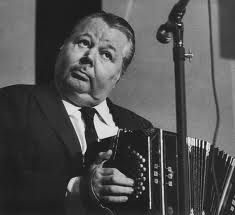 In 1937, Aníbal Troilo's orchestra debuted with Francisco Fiorentino as the singer. Troilo was a large man and had the nickname "Pichuco." He was an innovator and kept pushing tango into new areas especially once he hired a young bandoneon player named Astor Piazzolla and made him arranger for his orchestra. Troilo was popular with both dancers and the listening public. To this day, his pictures are hanging all over Buenos Aires cafés and restaurants. Listen to his song, "Tinta Roja" below.
Other famous orchestras from the Golden Age are: Carlos di Sarli, Osavaldo Pugliese, Osvaldo Fresedo, Miguel Caló, Rodolfo Biagi, Francisco Canaro, Lucio Demare, Edgardo Donato, Roberto Firpo, Pedro Laurenz, Francisco Lomuto, Alfredo de Angelis and Enrique Rodríguez. Click here for detailed articles on each of the major orchestras of tango.
By the mid to late 1940s, tango was at its height. There were 50 or so orchestras and countless ensembles playing around the city at salons, cafés, cabarets, confiterías and social and sports clubs. They were also playing around the country and traveling internationally.
Each district of the city had its own social and sports club such as River Plate, Huracán, Atlanta, Independiente. This is where many younger people came to learn to dance and socialize. They would also hold dances at night.
Orchestras would often play at several venus per night and their hardcore fans would follow them around from club to club.
Listen to some Popular hits of the Golden Age: