Always check the Facebook group, Tango Bar Atlanta, for the most recent updates.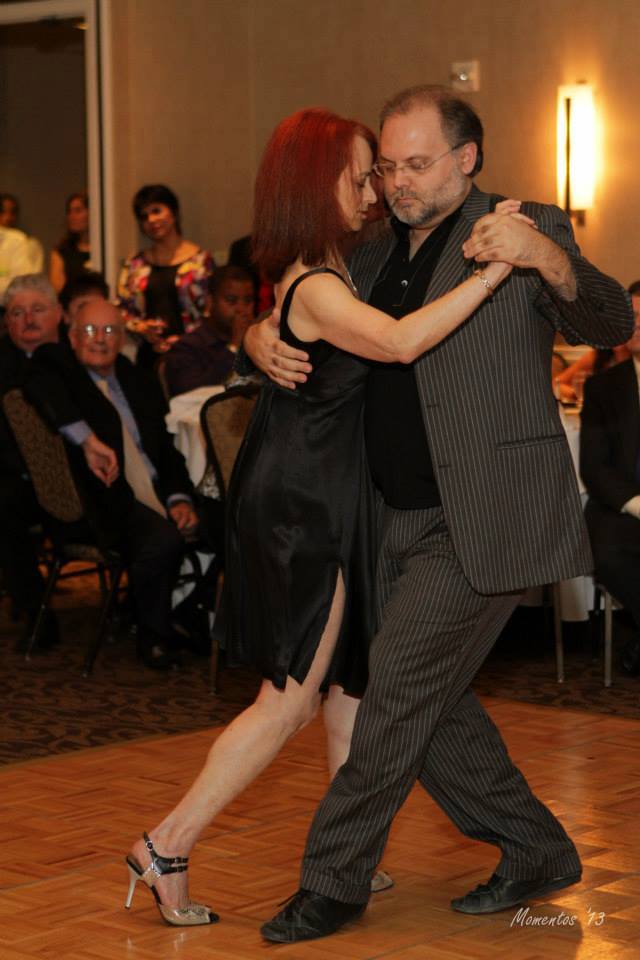 We teach simple, elegant, musical and playful ideas to be used on the social dance floor from Atlanta to Buenos Aires.
You do not need a partner to take our classes. We switch partners during the class and make sure that everyone gets plenty of dance time.
This class focuses on intermediate and advanced topics, so you should have a firm understanding of cross vs parallel system, giros, ochos, and cruzadas.

Every Tuesday Evening
8:00pm to 9:00pm: Int/Adv Class
We usually start a new series on the first Tuesday of every month, but check Tango Bar Atlanta for specific dates.
(To join our class, you must have proof of vaccination, wear a mask, and email Shelley at shelleydances@gmail.com to register...We reserve the right based on safety, to make final decisions on class participation.)

Fit360 Gym
700 Miami Circle NE
Atlanta, GA 30324
What to Wear
There is no dress code. Dress casually in clothes that allow you to move easily. We recommend wearing shoes that hold comfortably to your feet. We do not recommend flip flops or shoes with thick soles. You need to be able to feel the floor and to easily pivot without your feet slipping in your shoes.

What to Expect in our Classes

We teach simple, elegant, musical and playful ideas to be used on the social dance floor from Atlanta to Buenos Aires.

We demonstrate and teach the moves in both open and close embraces.

We spend a significant amount of time in each class dealing with Men's AND Women's techniques, as well as musicality.

We do not teach complex patterns. Anytime you string 2 steps together you have created a pattern, but we do not teach complicated multi-step patterns. The figures we do teach are classic and used regularly on the social floor.

Everything we teach takes 'line-of-dance' and floorcraft into consideration.

We try to give plenty of personal attention. We usually let students dance 2 or 3 songs between group instruction so that we can go around and give more personal attention and allow people to practice what is being taught.

Our classes are appropriate for everyone from advanced beginners to very advanced dancers. We try and give something for everyone.

TEACHERS

Clint Rauscher has been dancing Argentine Tango since 2003. He is a founding member of Tango Evolution and loves sharing his knowledge of Argentine tango dance and music.

He teaches simple, elegant, musical and playful ideas to be used on the social dance floor from Atlanta to Buenos Aires.

He has studied with master teachers both in the US and Buenos Aires including Sebastian Arce y Mariana Montes, Gustavo Naveira y Giselle Anne, Mariano "Chicho" Frumboli y Juana Sepulveda, Alejandra Mantiñan y Aoniken Quiroga, Norberto "El Pulpo" Esbrez, Facundo Posadas, Oscar Casas y Ana Miguel, Osvaldo Zotto y Lorena Ermocida, Osvaldo y Coca Cartery, Cristina Cortes and Gabriel Glagovsky.

You can contact Clint at: clint@tangoevolution.com

Shelley Brooks

Shelley Brooks has been dancing Tango since late 2004, and enjoys all styles of the embrace. She is a committed and active member of Tango Evolution, and believes that you dance with your community as well. She brings with her years of classical ballet training, as well as jazz, modern,tap, African, hip-hop, and Salsa, and studies in choreography, kinesiology, music, dance history, and has taught various dance/exercise programs over the years.With the understanding that technique and body mechanics are of utmost importance, you must never forget the dance, the energy, and how you move through space to the music.

Shelley has studied with masters from the States and Buenos Aires, most notably: Guillermina Quiroga, Gustavo Naveira and Giselle Anne, Fabian Salas and Carolina del Rivero, Miguel Zotto , Osvaldo Zotto and Lorena Ermocida, Nancy Louzan and Damian Essel, Fernanda Ghi and Guillermo Merlo, Silvina Valz and Oliver Kolker, Adrian and Amanda Costa, and Roberto Reyes. It has been a privilege to be around, and a joy to share.

You can ontact Shelley at: shelley@tangoevolution.com