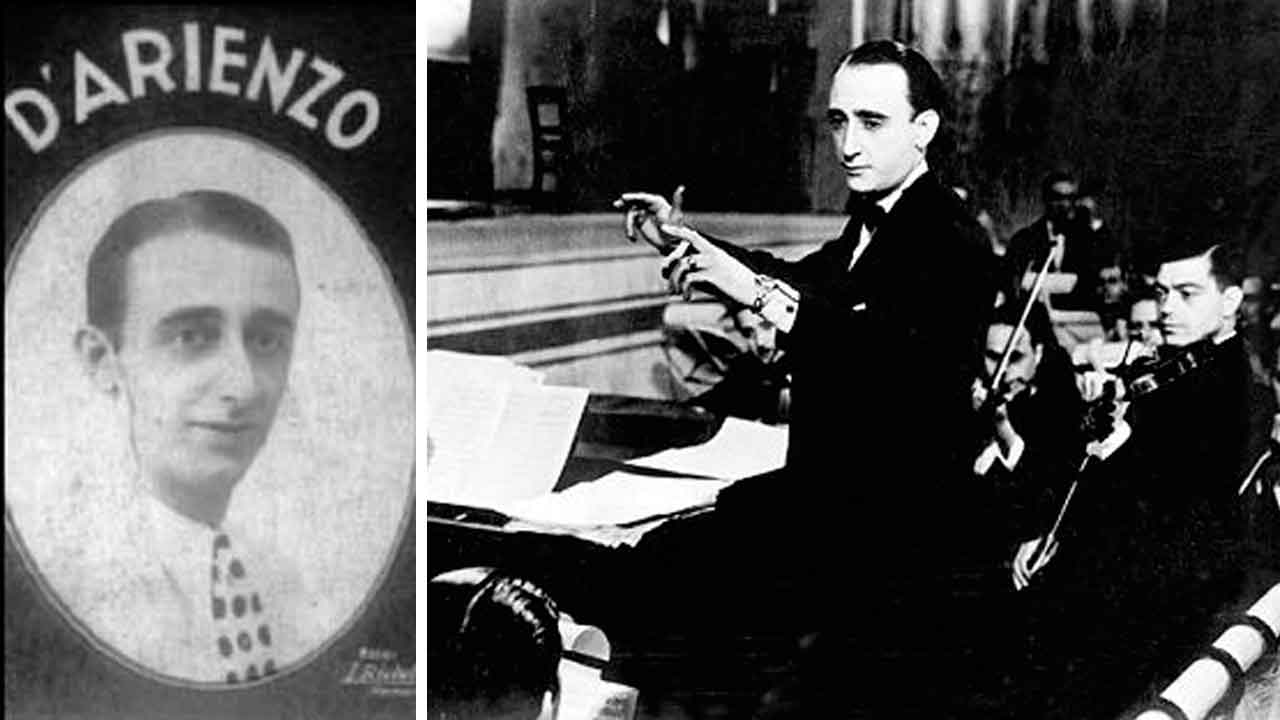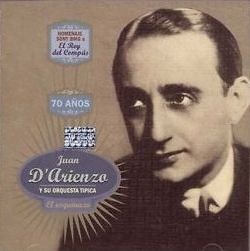 Juan D'Arienzo (December 14, 1900-January 14, 1976) was a violinist, pianist, band leader and composer. His nickname was "El Rey del Compás" (The King of the Beat). D'Arienzo was born on December 14th, 1900 in Buenos Aires.
His orchestra is considered one of the "Big Four" orchestras of Argentine tango, along with: Carlos di Sarli, Anibal Troilo, and Osvaldo Pugliese. He recorded over 1,000 tangos, valses, and milongas. He worked with the following key singers: Alberto Echagüe, Héctor Mauré, Alberto Reynal, Armando Laborde, Jorge Valdez, and Mario Bustos.

Childhood and Early Career

D'Arienzo was born into the family of Don Alberto D'Arienzo and Amalia Arméndola, in Buenos Aires. He was the oldest of three children and, unlike many other tango musicians of the time, he was born solidly middle-class. His family wanted him to become a lawyer, but, from an early age, he wanted to play music.1
D'Arienzo started playing the piano around the age of 8, but would also learn to play the violin. As a youth, he formed a tango trio, which included himself on violin, his friend Ángel D'Agostino on piano, and Carlos Bianchi on the flute.1
In his early years, he played, as did many musicians of that period, in theaters, cabarets, and at carnivals. He played at the Teatro Avenida, the Teatro Nacional, and El Cine Hindú Palace playing music for silent films, zarzuelas, and sainetes. Sainetes were popular one act farces, often set to music. He also played at the cabarets including: Abdullah, Palais de Glace, Florida, Bambú, Marabú, Empire, Chantecler, Armenonville. He loved the nightlife and once wrote, "We were beginning to live only at four in the morning... At the cabarets, you played all night through, people danced, had fun, they stayed til sunrise and the muscicians strained themselves."2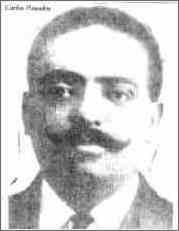 In 1917, he would work in the orchestra of the Teatro Avenida, under the direction of Carlos Posadas.1 Posadas was a well respected, black violinist, guitarist, pianist, composer and orchestra director. He was known for his strong, upbeat music and was probably a major influence on D'Arienzo's later sound. D'Arienzo would record versions of his compositions: El Tamango, El Jagüel, and Cordón De Oro.3
In 1919, his own group was hired by the Teatro Nacional to play the music for a sainete and he would later say, "With D'Agostino and I, on the violin, we took part in the premiere of Alberto Novión's sainete The Montmartre Cabaret... In the work appeared a small typical orchestra, directed by us, and that accompanied Los Undarz, the famous dance couple of El Mocho and La Brasilera, two aces of the canyengue tango."4
During the early 1920s, D'Arienzo played with many groups, often with D'Agostino, playing all types of music, including Jazz. They also often worked with a female singer named Evita Franco playing tangos.4 It is during this time that he earned his first nickname, El Grillito (The Little Cricket). This was not a flattering nickname and referred to his mediocre violin skills and the high pitched tones he played.1
1926 to 1935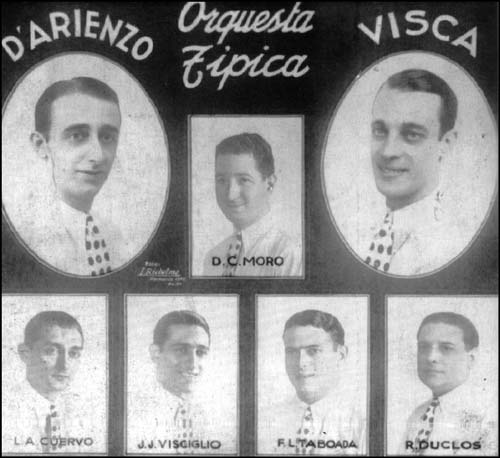 From 1926 to 1928, he forms several tango orchestras which included (at various times): D'Agostino, Luis Visca, and Vicente Gorrese on piano, D'Arienzo, Luis Cuervo, Alfredo Mazzeo on violins, Anselmo Aieta, Ernesto Bianchi, Ciriaco Ortiz, Nicolás Premian, and Florentino Octaviano on bandoneons, and Juan Puglisi on the double bass.5 These orchestras went by the names: Orquesta Paramount, Los Ases del Tango, Orquesta D'Arienzo-Visca, Orquesta Polito-D'Arienzo, and La Tipica D'Arienzo-Visca-Mazzeo. At some point, D'Agostino left the orchestra to form his own, and was replaced by Visca. While D'Arienzo never recorded under any of these names, we know that they existed from promotional posters and playbills of the time. During this time, they also played live on El Mundo radio station.6
In 1928, he recorded, for the first time, for the Electra label, and recorded 44 sides, with the estribillistas: Carlos Dante, Francisco Fiorentino, and, the female singer, Raquel Notar. During these sessions, he recorded "La Cumparsita" twice, once with Carlos Dante and again with Raquel Notar.
He also recorded a tango that he composed with Luis Rubistein, called "Callejas Solo," which would later be given new lyrics and renamed "Nada Más."
Below is one of my favorites from these sessions, "Acordate Lo Que Fuiste." It has the slow, steady, heavy beat of the 4/4, which puts him, at this time, solidly in the Canaro or "traditional" school. But at the same time, you can hear some of the influences of the "evolutionary" school with the arrastres (drags). So, at this moment, he was not really standing out. He was solidly in the status quo. You can also, perhaps, hear the reason for one of his earlier nicknames, "El Grillito (Little Cricket)," because he was not the greatest of violinists.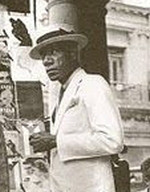 Around 1929, his orchestra began playing at the Florida Cabaret, replacing Osvaldo Fresedo's orchestra. It is here that the famous announcer, Príncipe Cubano (The Cuban Prince) (pictured left), anointed D'Arienzo "El Rey del Compás (The King of the Beat)." As D'Arienzo explained it:
"Mine was always a tough orchestra, with a very swinging, much nervous, vibrant beat. And it was that way because tango, for me, has three things: beat, impact and nuances. An orchestra ought to have, above all, life. That is why mine lasted more than fifty years. And when the Prince gave me that title I thought that it was OK, that he was right."2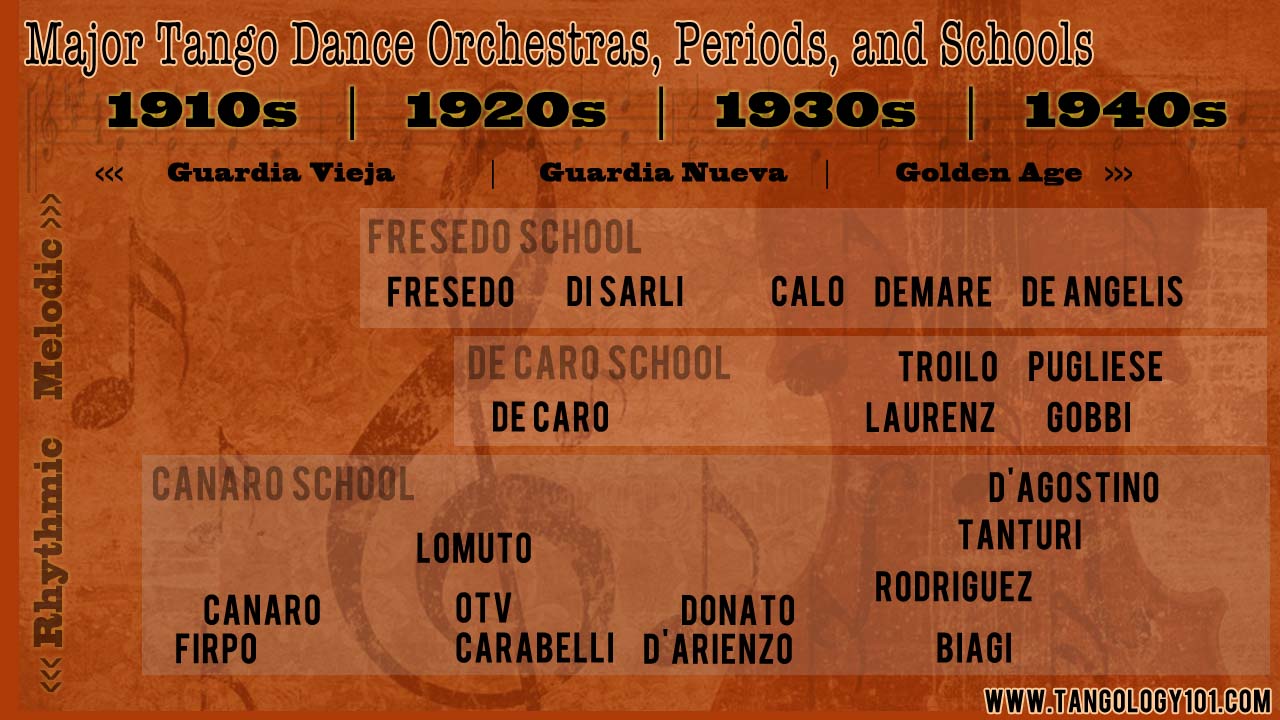 In 1933, he appears playing violin with his orchestra in the movie, "Tango." This was the first Argentine film recorded with sound. Below is a clip from that film. This scene was shot at the Chantecler club, where D'Arienzo regularly played.
El Chantecler was a luxurious cabaret in Buenos Aires on Parana 44, between the avenues of Corrientes and Lavalle.
"Built and designed in 1924 to be a cabaret, the Chantecler featured a driveway for automobiles to drop guests at the door, 3 dance floors and a large theater with VIP boxes which were equipped with telephones for the guests to place orders at the bar. It also featured an interior pool where beautiful young people could be seen swimming and playing games." 8
D'Arienzo and his orchestra was a featured attraction at the Chantecler from the late 20s until it closed in 1958. Later that year, D'Arienzo recorded an album titled, "Adiós Chantecler," in its honor. It is also worth noting that the Chantecler and Florida cabarets were both owned by frenchman Charles Seguin, and that the doorman/announcer, Ángel Sánchez Carreño aka El Principe Cubano, worked at both clubs.
1 Juan D'Arienzo Biography, Very Tango Store, viewed on 05/20/2018.
2 D'Arienzo, Juan, Tango Has Three Things, Todo Tango, viewed on 05/10/2018.
3 Pinsón, Néstor and Bruno Crespi, Carlos Pasadas, Todo Tango, viewed on 05/19/2018.
4 Gobello, José, Juan D'Arienzo Biography, Todo Tango, viewed on 05/20/2018.
5 Pinsón, Néstor, Orquesta Típica Juan D'Arienzo, Todo Tango, viewed on 05/10/2018.
6 Juan D'Arienzo Discography 1928-1929, viewed on 05/21/2018.